Brake Repair
Brake Repair Coupon Available Here!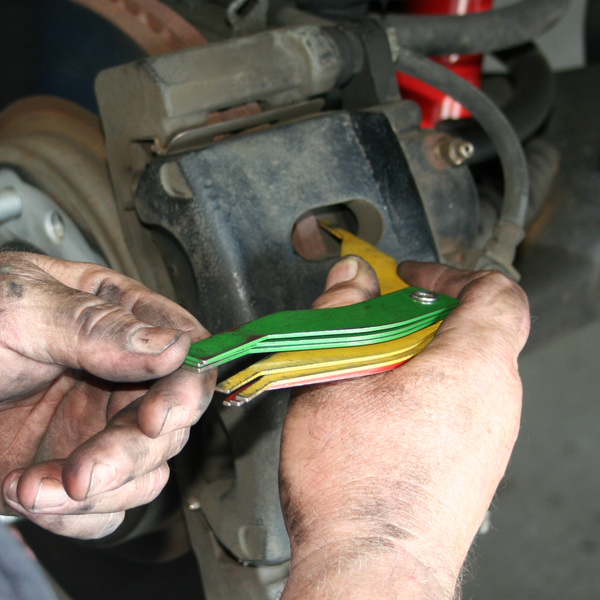 Brakes are the most important part of your car!
Of all the technology available in modern cars brakes have perhaps improved the most. These days every car has power brakes and many models have highly efficient 4-wheel disc brakes.
Because of the importance of brakes to you and your family's safety we recommend getting your brake system checked each time you get your tires rotated, about every 5,000 miles. When you rotate the tires you already have the wheels off its a perfect time to look at the brakes. Something as simple as a stuck caliper can lead to expensive repairs. Don't ignore brake problems, they only get more expensive to repair the longer you put them off.
If you brake pedal feels like it goes down too far then DO NOT WAIT, come in immediately.
Here are the main signs that you may have a brake problem:
If you feel your brake pedal pulsing when you press on it
Squeaky brakes
Grinding sounds coming from wheels when brake pedal is depressed
If the car pulls to one side or the other when braking
Hydraulic problems: brake fluid on the ground or soft pedal when braking
Red brake light in dash stays on
ABS light stays on after starting
What can be done:
Brake Test Drive: Many times a test drive by an experienced mechanic will discover a problem that the owner hasn't noticed because it has developed slowly over time: a soft brake pedal, poor braking efficiency, sounds that have become routine/ignored.

Brake Inspection: Next we do an inspection that involves the precise measurement of your brake pads, rotors or drums. We leave nothing to chance and base our brake repair recommendations on the measurement, in precise millimeters, of the material left. Other shops report the remaining brake materials with a "percentage left" number, a subjective evaluation: 4 different guys can mean 4 different percentages. We use a micrometer on the drums and rotors after turning. If they don't exceed the safe measurement we recommend replacement

Brake Fluid Flush: Next we test the cleanliness of the brake fluid. Brake fluid is a hydraulic fluid and, as such, performs best when clean. We have sensitive test strips that will give us either a visual "OK" or say that your brake fluid needs to be replaced. If so we use a Brake Fluid Flush machine to clean out all of the old dirty brake fluid. Sometimes what we see come out has the consistency of mud. Protect your cars expensive ABS Unit, Master Cylinder, Calipers and Wheel Cylinders by having your brake system flushed regularly.

O.E. Brake Parts: We recommend the use of O.E. brakes (Original Equipment) parts when fixing your brakes because this is the way the engineers designed it to work and how it can be kept working the longest. In many cases this involves the use of Ceramic Brake Pads which are vastly superior to the old asbestos or metallic brake pads of yesteryear. Some cars' brake systems perform much better with O.E.M. (ACDelco / Motorcraft) exact pad. They outperform the after market pads by far.
If you are experiencing any of the above symptoms with your brakes or want to set up a Brake Inspection appointment please call Steven Luzzi Automotive at 562-869-7778 or use our handy contact form at right.