Tires & Computerized Speed Balancing
Offering the best in automotive tires, including Goodyear tires!
Tires are your cars means of contact to the road. All acceleration, braking and cornering is done via your cars tires. Tires are made of natural rubber and break down over time, regardless of how many miles they have on them. The age and condition have to do with more than just the remaining tread and whether the wear bars are showing.
Keep your eye out for cracking in the sidewall of your tires, bubbles or weak spots or tread separation that can lead to blowouts.
Before you take any long car trip have us check out the condition of your tires. You may have run over something and be unaware that it is sticking out of your tire, ready to cause it to fail.
We recommend checking air pressure in the spare tire.
We offer computerized balancing resulting in a perfectly smooth ride. Rubber wears and changes density over its lifetime leading to the need for your tires to be balanced. If we test drive your car and notice that it shakes that is a definite sign that the tires need to be balanced.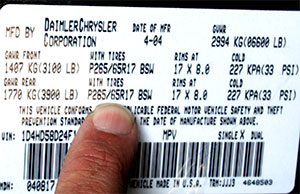 Choosing the proper tire for your car is important. Look for the sticker on the end of the driver's side door to see the manufacturer's recommendations for your make and model of car. We advise people to stick with the size of tires that their car came with. We can help you find most tires for the right price.
We also repair tires by either patching or plugging. Patching requires that the tire be removed. Patching a tire is a superior repair because a patched tire won't allow moisture to infiltrate. Moisture inside a tire can lead to the premature breaking down of the rubber. Plugs are a faster, more economical way to repair tires. Tire plugs are made of a specially treated leather that actually works really well.
All cars need to have their tires rotated approximately every 5,000 miles. Heavy SUV's to small, front wheel drive cars, each puts their own special load on the tires. Again, balancing is all about a smoother ride and longer tire wear.
Some of the Tire Brands We Recommend: